Perfect Match Finishing
Oakland County, Michigan Based Perfect Match Finishing Inc. Was Founded In 1995
Our Company was founded in 1995 by Keith R. Kuckenbecker, a master wood finisher with more than 30 years of experience specializing in all wood-finishing techniques. He has done finishing work for furniture makers, local celebrities and in multi-million dollar homes.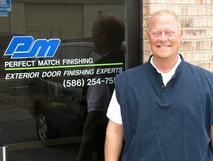 Kuckenbecker is truly passionate about his work and is considered to be one of the best in the field. As a custom wood finisher, he has worked with designers and furniture makers on hundreds of projects - large and small - and has finished one-of-a-kind, high-end pieces of wood furniture.
If you have questions or are ready to get started.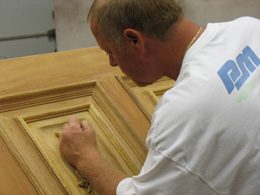 We only use state-of-the-art chemicals (stains and clear coats) to achieve the best results possible, and Keith makes his own stains from a clear base for your entry.

Before he founded Perfect Match Finishing, Kuckenbecker served as a finishing department foreman for nearly 10 years, for a number of furniture manufacturers prior to opening up Perfect Match Finishing

As part of his commitment to being up-to-date on the latest wood-finishing techniques, Kuckenbecker - and only two other people from Michigan -  traveled to Italy in the Spring of 2006 for training to work with some of the best wood-finishing chemicals in the world.

Recognizing a product solution that was long overdue in the market, Kuckenbecker created a one-of-a-kind Wood Finish Sample Kit   - a premier wood sample collection to help customers choose a "perfect match" color for their wood product needs.

Kuckenbecker donated his services to - and was recognized by - the Archdiocese of Detroit for the finish he provided to the cabinet that houses the miter (bishop hat) and crosier (pastoral staff) of Adam Cardinal Maida, the Archbishop of Detroit.